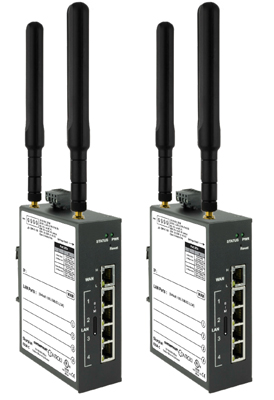 An introduction video is available for our popular EIGR-C Cellular IP Routers, which provide a secure VPN connection via cellular to remote sites where a wired connection is not an option.
The EIGR-C2 is a high-speed router that links cellular to 10/100/1000 Mbps Internet Protocol (IPv4) networks – passing appropriate traffic while blocking all other traffic. One network is the local-area-network (LAN); the cellular is the wide-area-network (WAN). It also has an Ethernet port that can act as the WAN if cellular access is not required. The built-in stateful firewall passes communication initiated on the LAN-side while blocking WAN-side initiated communication. With Port Address Translation (PAT), LAN-side clients can access the Internet.
The EIGR-C has many of the same features found in high-end routers, but it is simpler to install and commission. A resident DHCP server on the LAN-side will provide IP addresses to LAN-side clients. Configuration is via a web browser using authentication. With a DIN-rail mounting clip, rugged metal enclosure and the ability to be powered from a low-voltage AC/DC power source, the EIGR-C is ideal for automation and building management systems alike.
Watch the EIGR-C Introduction Video or visit the EIGR-C Cellular IP Router product page to learn more.