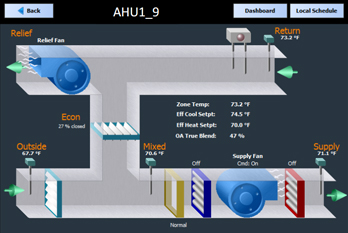 Contemporary Controls' pre-built applications make it easy to utilize our BACnet/IP and MS/TP Sedona Unitary controllers in constant volume air-handling, fan coil, and heat pump applications. Although all controller models are freely programmable using Sedona as the control language, they can be made into configurable controllers by installing one of the pre-built applications available for free from our website.
Each pre-built application is fully supported with complete documentation. Using the BAScontrol Toolset, the systems integrator can modify the sequence and the underlaying control code to meet the needs of the application. Once developed and tested, a complete project backup can be made using BASbackup.
Constant Volume Air Handlers
Contemporary Controls has replaced the constant volume CvRTU series of pre-built applications with a new CvAHU series which includes three new macros—Staged Heat/Cool, Wall Setter, and Economizer. The targeted constant volume applications have not changed.
2-Pipe or 4-Pipe Fan Coils
One of the most common HVAC applications is the fan coil. There are two basic applications with the first version supporting a 20-point controller and the second supporting a 22-point controller. The supply fan can be single speed, multi-speed, or variable speed. Dependent upon the piping, the fan coil can be dedicated to either chilled water cooling or hot water heating, or simultaneous heating and cooling. There is a choice of modulating or staged heating/cooling up to two stages. An output exists for binary ventilation control.
Constant Volume Heat Pumps
For a decarbonization strategy, heat pumps are attractive. There are four possible applications with the fourth one designed for a 20-point controller. All are intended for a single-speed supply fan. The exhaust port can be barometric, powered, or none at all. There is a single stage of DX heating or cooling. If auxiliary heating is required in colder climates, it can be accomplished with modulating or dual-staged heating. An output exists for binary ventilation control.
Learn More
To learn more about our pre-built applications and to download the latest versions, visit our Pre-Built Applications page.